Doesn't this cool autumn weather just make you want to curl up in a blanket and binge-watch scary Netflix shows? It does me! The Walking Dead is an obvious choice for Halloween viewing, of course, but even shows that don't fall squarely into the "horror" category occasionally surprise you with a truly creepy episode. This is especially true for those that follow the monster-of-the-week format I love so dearly.
Here are some scary highlights from my favourite shows:
Doctor Who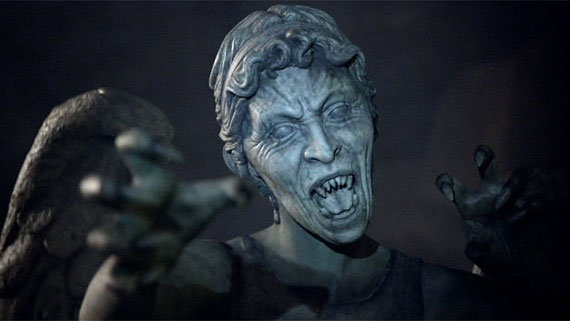 "The Empty Child/The Doctor Dances" – The two-parter that introduced the phrase "gas mask zombies" into Whovian vocabulary and made "Are you my mummy?" the scariest sentence in the world. Also, Steven Moffat's first episode and one of the best stories involving the Ninth Doctor.
"The Impossible Planet/The Satan Pit" – The Doctor and Rose land on a planet orbiting a black hole and meet the Devil. The result: the only Doctor Who episode I've felt uncomfortable showing my 9-year-old sister. Not that the actual Beast is all that scary, but there's something really unsettling about the Ood.
"Blink" – Again, Moffat. This time, he decided to make statues the scariest thing in the world. To this day, angel statues make me uneasy. This is easily one of the best Doctor Who episodes of all time, so you really can't miss it, whether you're looking for a fright or just a clever work of art.
"Silence in the Library/Forest of the Dead" – And for a third time, Moffat. Everyone's afraid of the dark sometimes, and these episodes give us a reason to be. They also give us a planet-sized library, our first meeting with River Song, and lots of emotional trauma.
"Midnight" – No slimy alien monsters, just the Doctor stuck in a bus with a bunch of panicky people, one of whom keeps repeating what everyone else says. It's terrifying. And again, one of the greatest episodes ever.
"Night Terrors" – Giant, living dolls and an apartment complex straight from my nightmares. Only Rory Williams could get through this one unfazed.
Supernatural
Even though it is marketed as a horror show (and has a higher body count than The Walking Dead), Supernatural usually isn't all that scary. But it does have its moments.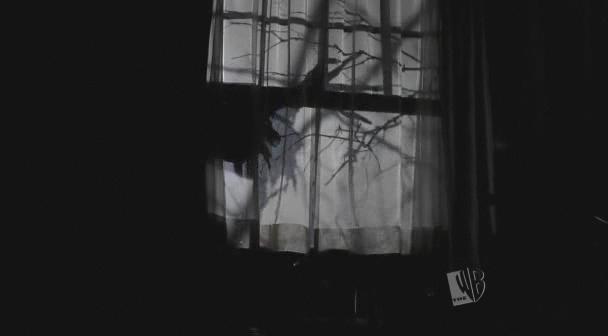 "Asylum" – It's an abandoned insane asylum with creepy twitching ghosts everywhere, one of whom makes people bleed and go crazy. This sort of thing is why I don't go to haunted houses.
"Something Wicked" – Monsters that target children are always extra scary. Especially when they're portrayed explicitly like paedophiles. Especially when their actual "monster" form has long, tree-branch-y fingernails that scrape against your window right as you're falling asleep…I mean, who didn't have that nightmare as a kid?
"Everybody Loves a Clown" – No. We don't.
"The Kids Are Alright" – No. They're not.
"No Rest for the Wicked" – This episode is upsetting on a number of levels, since it's a season finale that ends with one of our heroes dead (for the first time) and in Hell. But the scariest thing about it isn't the hellhounds or the final shot of Dean. It's FREAKING LILITH. Talk about a creepy child. "I don't think I like you anymore." *shudder*
"Family Remains" – Who would have thought finding out your new house isn't haunted would make it scarier? No ghosts in this one, just a really messed-up sibling duo…much like a certain X-Files episode…
"It's the Great Pumpkin, Sam Winchester" – Okay, so this one isn't especially scary, but it's the Halloween episode. And it is chock full of ghosts, zombies, demons, and witches.
The X-Files
I mean, one of the main characters is nicknamed "Spooky." Of COURSE it's got scary moments.

"Squeeze/Tooms" – These episodes will replace your fear of mice getting in the house via the air vents with fear of a liver-eating serial killer getting inside the same way.
"Irresistible" – And yet, Eugene Victor Tooms is outdone by a (probably) completely normal serial killer. He has a thing for hair and fingernails…and Scully…
"The Calusari" – You know how little kids don't usually get killed on TV-14 rated shows? That rule doesn't apply to The X-Files. Not that one of the kids in this episode wasn't a killer himself, and also probably possessed by Satan. This is not a good one to watch alone in the dark.
"Clyde Bruckman's Final Repose" – It's a funny episode, but also pretty creepy and morbid, especially whenever we get a glimpse of Clyde's death visions.
"Home" – As I've mentioned before, this got a "mature content" warning slapped on it when it first aired, for understandable reasons. It will also ruin your childhood if you grew up watching The Andy Griffith Show. But it's a fantastic episode nevertheless.
"Sanguinarium" – This one isn't exactly scary so much as it is just really, really gross. Botched plastic surgery + witchcraft does not equal happy times.
"Chinga" – It's about an evil talking doll. It was co-written by Stephen King. Need I say more?
Even the myth arc episodes get in on the fun, with the "black oil" virus and aliens hatching from people's torsos and whatnot. "Tunguska/Terma" and "Patient X/The Red and the Black" deserve special mention, partly for black oil-related gruesomeness and partly because Alex Krycek is Justin Bieber's demon form.
The Twilight Zone
All of The Twilight Zone. Every single episode. If the actual plot doesn't give you the creeps, the '60s special effects, combined with that theme song and Rod Serling's grin, will. They should broadcast marathons of this show around Halloween, not Fourth of July.
Well, that seems like a pretty comprehensive list to me. Please comment below if I missed anything. Meanwhile, happy binge-watching!
Namarie,
Aldy